This post brought to you by Nature's Care. All opinions are 100% mine.
Today is the day we close on our new house!!! I am beyond excited, and I have tons of plans for new projects once we're all moved in! No more 650 sq. ft. apartment; now we have a house with a yard and a garage! Not only do I have tons of space to decorate, but I get a craft room all to myself instead of just the dine-in area of our kitchen. And did I mention that we have a yard?!
I can't wait to put patio furniture out there, get a grill, and start my very own edible garden! I think the previous owners were gardeners too, because there is actually a very nice raised garden box already in the yard. Obviously the snow has killed whatever plants were out there, but it is just about time to start seeds indoors for this year's garden, so as soon as we move next week, that's what I'm going to do! And, perfect timing, Nature's Care just came out with a brand new line of all natural gardening products, and they're going to let me try it out on my garden this year!
One of my favorite things about gardening is that it means you can use natural, homegrown ingredients when you cook. My dad and I started a vegetable garden in the backyard when I was a kid and I loved eating cherry tomatoes straight off the vine. And I always brought in a basket of squash and zucchini for my mom to cook along with dinner that night. And now that we have our own house, I plan to start a little vegetable and herb garden in our backyard so I can carry on the tradition!
I'm excited about the Nature's Care line because it's a natural formula that's perfect for edible gardening. There are no weird chemicals or ingredients so the veggies will (hopefully!) be happy, healthy, and all natural!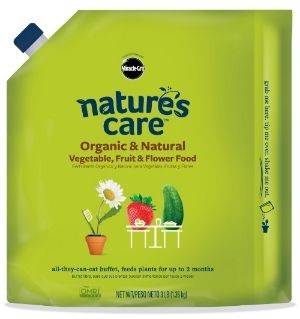 It's definitely too cold to plant seeds outside right now; the ground is still frozen solid. But just like last year, I plan to start seeds indoors. It's pretty simple to germinate seeds indoors, and the kitchen in our new house has the perfect place for little seedlings to grow big and strong. The window above the kitchen sink is bumped out about a foot, so any plants in the window sill will get light from all directions!
Hopefully after about a month in this sunny window, the little guys will be ready to move outdoors! I'm definitely going to grow basil and mint again this year, and probably lavender as well. I can't wait for summer so I can make basil pesto; it's seriously one of my favorite quick and easy recipes!
Are you planning to have an edible garden this season? What are your favorite veggies or herbs to grow? Nature's Care gardening products are available at most major garden supply stores; check them out and get started on your own natural, edible garden!
Disclosure: I received compensation from Nature's Care in exchange for my honest discussion of their products. But I'm really excited to try out their Nature's Care products, and all opinions in this post are 100% my own. I would never write a post about something I didn't think was useful or interesting for you guys, and Practically Functional will only publish sponsored posts for companies or products I love and believe in!
I link up at these awesome parties!
The following two tabs change content below.
Hi, I'm Jessi! Welcome to Practically Functional, a blog about real projects that real people can actually do! You don't have to be a pro in order to craft or do DIY projects; Practically Functional is full of projects for everyday life that anyone can do, regardless of skill or experience! Whether you're looking for fun crafts, DIY projects both big and small, gardening advice, cleaning tips, or quick and easy recipes, you'll find them here! Follow the step by step instructions in every tutorial, and don't hesitate to ask if you have any questions! Make sure you
follow along by RSS
or
subscribe to daily or weekly emails
so you don't miss a single tutorial!
Latest posts by Jessi Wohlwend (see all)