I've never been a big fan of the trash can situation in our kitchen; it's such a hassle to try to find a balance between the cans being easy to access, out of the way, cat-proof, dog-proof, and eventually child-proof! We had to get locking lid containers to keep the cats out of the trash cans, and then when we adopted the puppy, those trash cans worked great to keep her out of the trash as well. The problem was that we kept having to lock and unlock the lids every time we needed to throw something away, and it was just annoying.
I've always wanted pull out trash cans, so I did a bit of research and realized it's really easy to do yourself! If you have an empty cabinet, all you need is a pull out trash can cabinet conversion kit (which you can get on Amazon!) and about an hour, and you can make your own DIY pull out trash cans!
When I told my dad I wanted pull out trash cans he suggested Rev-A-Shelf; they make tons of useful pull out kitchen gadget things. So I just measured the inside of the cabinet I wanted to use and ordered the correct pull out trash can container kit to fit the cabinet. Luckily, my dad and brother were in town when the cabinet kit showed up, and they generously offered to install it for me! (Read: I walked around carrying my three month old baby looking sad until they offered to do it for me. 😛 They're such sweeties!)
DIY Pull Out Trash Cans
Here's what you need to turn an empty cabinet into DIY pull out trash cans:
NOTE: These pull out trash can kits come in all shapes and sizes, so you need to measure your specific cabinet before determining which product is right for you. But I'll go into detail about that further down in this tutorial! Also, you have two options about how to mount the door of the cabinet. If your door is currently hinged, you can leave it as is and get a pull out trash can kit that pulls out using a metal handle attached to the sliding mechanism. Or if you get the door mounting kit you can take the door off the hinges and mount it to the front of the sliding mechanism so that the entire door pulls open along with the trash cans, like I did.
This is what we started with. The two locking lid trashcans were next to the fridge, and we added a small shelf above them to hold produce and things. But none of it was very pretty or tidy looking.
Weirdly enough, down in the basement laundry area was a cabinet and countertop that matched the kitchen. It looked like this cabinet used to be in the kitchen and was removed for some reason. And over on the other side of the basement was a matching upper cabinet. I measured them both and they both fit exactly into the spot next to the fridge; PERFECT!
We brought the cabinets upstairs and cleaned them up. For the lower cabinet, we removed the top drawer, the door, and the countertop so that we could easily install it.
Before you get started, you'll want to measure your cabinet to get the right pull out trash can kit. You need to know the inside dimensions of your cabinet (height, width, and depth) so you can figure out what size trash cans will fit inside. We knew we wanted to leave the small drawer at the top, so we left the drawer in when we measured the cabinet. Once you have your dimensions, you can look at all of the pull out trash can kit options and see which ones will fit in your cabinet. And remember, if you want the door to pull open with the trash cans, you'll need to get a door mounting kit as well as the pull out trash can kit.
Once the cabinet was clean, it was time to install it. My dad builds custom furniture and cabinets for a living; he's a pro at installing kitchen cabinets, so I just let him do this whole piece! He slid the cabinet into place, added a few shims at the back to make sure it was level and flat, and then screwed the cabinet itself into the wall to hold it in place. He did the same thing with the upper cabinet.
Then Dad and my brother started assembling the DIY pull out trash can kit. Each kit will come with a set of instructions, so just follow the instructions for your specific kit.
If you got a door mounting kit, you don't need to add the metal handle to the front of the sliding mechanism. Instead, just open up the door mounting kit and follow the instructions for attaching the door directly to the sliding mechanism. It's pretty simple to do; the door mounting kit included two brackets, some sticky pads, and a few screws. My dad and brother attached the brackets to the sliding mechanism, stuck the sticky pads to the front of the brackets, and then positioned the door on the brackets and stuck it on. The sticky pads are just for positioning the door; they aren't actually strong enough to hold the door permanently, so they screwed the door into the brackets, and they were done!
We stuck the trash cans in the sliding mechanism, and it was ready to use!
The whole project took about an hour, including installing the cabinets back into their original locations. But if you have a cabinet that's already installed that you want to turn into pull out trash cans, assembling the pull out trash can kit really only takes about half an hour! All you need to do is empty out the cabinet, measure the inside dimensions, get a pull out trash can kit that fits that specific cabinet, put it together, attach it to your cabinet, and you're done!
Unfortunately, our cats know how to pull open drawers, but we added a child safety latch to the cabinet and now the trash cans are cat-proof, dog-proof, child-proof, easily accessible, and totally out of the way and tidy looking!
Plus we have extra cabinet space and counter space, so that's a huge bonus! The area next to the fridge is so much more functional and tidy looking now!
What do you think, could you use pull out trash cans in your kitchen?
Want to share this tutorial with your friends? Just click any of the share buttons on the left to share with Facebook, Pinterest, Twitter, etc.!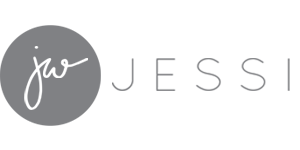 The following two tabs change content below.
Hi, I'm Jessi! Welcome to Practically Functional, a creative lifestyle blog for busy moms! I believe that even if your house is a mess and you're wearing yesterday's sweatpants, you can still be a kickass mama, a creative problem solver, and a maker of awesome things! Whether you're looking for simple cleaning tips and tricks, fun DIY and craft projects, quick and easy home decor ideas, practical organization solutions, tried and true parenting advice, or just real-life stories about parenting struggles, you'll find them here! Make sure you
sign up to get new posts delivered to your inbox
so you don't miss a single thing!
Latest posts by Jessi Wohlwend (see all)