This post was last updated on
Just in time for Valentine's Day I found a wonderful recipe for Red Velvet Hot Chocolate (and pink hot chocolate too!) at A Beautiful Mess. We tried to recreate it, and it turned out delicious so I'd like to share it with you (a few days early so you can go get chocolate chips if you want to try it)!
Look how gorgeous this hot chocolate is!!! (The picture below is from the original post on A Beautiful Mess)
To make this yourself you need 5 cups of milk, a cup of dark chocolate chips, red food coloring, and a pan.
(ignore the messy kitchen in the background!)
Put the milk in the pan and warm it up. Once the milk is warm dump in the chocolate and stir it in as it melts. It took a little while for the chocolate chips to melt; they mostly melted right away except for some little tiny flakes of chocolate that kept floating around the top. Once the chocolate is all melted add the food coloring. Here's where we had trouble recreating the original… The recipe calls for 2-3 drops of red food coloring, and that first picture in this post is how theirs turned out, a gorgeous deep red.
(and ignore the messy stove! This was sort of a spur of the moment project, and our kitchen was not clean)
Well…we added like 50 drops and it only got as dark as the right side picture above. 🙁 So, I must be missing something, but if you make it add however much food coloring you want, or skip it all together if you just want regular-colored hot chocolate!
But it was still delicious, so even though I couldn't get it to turn red and look all Valentine-y it's still worth sharing with you guys!
At least we drank it out of red, festive mugs! The red totally validates the Valentine's theme here… 🙂
If you try the recipe out let me know what you think! Do you have any suggestions for recreating that red color? Do you have plans for Valentine's Day this year? We're going out for sushi, but that's about it as far as Valentine's plans go. We're boring. 🙂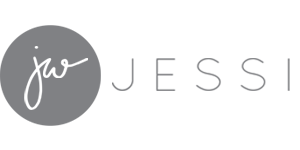 I link up at
these awesome parties
!
The following two tabs change content below.
Hi, I'm Jessi! Welcome to Practically Functional, a DIY and crafts blog for everyone! I believe that anyone can do crafts and DIY projects, regardless of skill or experience. Whether you're looking for simple craft ideas, step by step DIY project tutorials, cleaning hacks, or just practical organization solutions, you'll find them here! Make sure to
sign up for the email newsletter
to get craft projects, Cricut tutorials, and cleaning tips in your inbox every week (for free!)
Latest posts by Jessi Wohlwend (see all)