This post was last updated on
The blog is being taken over by some guests while JM and I get packed up and ready to move into our new house! Today's post is brought to you by Omo from Kolture Shoq; she has a super cute DIY bracelet tutorial for you!

---
Hello,
I'm Omo (my friends call me Feline).
I'm a God lover, dancer, DIYer, and self-proclaimed web surfer (I wish that were a profession). A banker by day and crafter by night, I like to talk about the funny (or annoying) little nuggets that make up my life, and my supreme thriftiness and creativity (real or imagined) on Koltureshoq.
DIY Bracelet With Zipper And Chain
I saw this bracelet a while back on Miss Bloom and decided to give it a go. The result is this really pretty zipper and chain bracelet that looks like I bought it off the rack at some fashion store. At least that's what my colleagues have been saying……and oh the compliments I've been getting.
Anyways, I do have time for a quick tutorial. Unfortunately, I was too caught up and pressed for time (my eyes were closing) to take pictures of the step by step process. But not to worry; it's pretty simple and quick too.
Materials
Zipper (preferably with gold or silver teeth)
Curb chain (in gold or silver)
Glue
Ribbon clamps and end clasps
What to do
Wrap the zipper around your wrist and cut it to your desired length (mine was about 7 inches). Be sure not to cut off the part where you have the zip head.
Close each of the zipper end with a ribbon clamp
Cut out 2 pieces of the curb chain (6 inches each).
Spread glue on either side of the zipper teeth and lay each of the curb chains on the glue. Allow to dry.
Attach the end clasps.
Wait for it…….yeah….go rock! (lol)
To better secure the chain, I sewed each end to the zipper using a gold thread.
I hope you get inspired to make your own zipper and chain bracelet. I know I had fun doing it (even though I was half asleep, but it does show my motivation, right?)
Don't forget to share this tutorial with your friends and feel free to stop by my blog (www.koltureshoq.wordpress.com) anytime.
Thanks for having me Jessi. I hope to come by again sometime soon
Lots of love,
Omo
---
Isn't that bracelet super cute?! Think of all the color combinations you could make; last time I was at Jo-Ann's I think they had zippers in about 100 different colors!
Thanks so much for sharing this fabulous project with us Omo!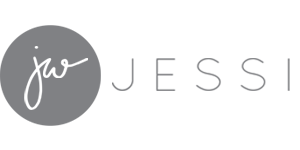 I believe that anyone can do crafts and DIY projects, regardless of skill or experience. I love sharing simple craft ideas, step by step DIY project tutorials, cleaning hacks, and other tips and tricks all with one goal in mind: giving you the tools you need to "do it yourself", complete fun projects, and make awesome things!