This post was last updated on
Have you seen those fun chalkboard menus or signs that have gorgeous hand lettering on them? I have, and I've always been jealous of how pretty they look, because my handwriting is horrible. But, there's a way to get perfect chalkboard lettering by hand, even if your handwriting is bad! Today I'm going to show you how.
The best thing about this method is that it works great for anything! You can write out a menu on a chalkboard, or make a cute chalkboard sign for a wedding, or even just draw great pictures without adding any text if you want!
DIY Perfect Chalkboard Lettering By Hand
Here's what you need:
a chalkboard
a chalk marker or piece of chalk
a piece of compressed graphite
a pencil
printed out graphic that you want to transfer to your chalkboard
NOTE: You can find compressed graphite in the art/drawing section of most craft stores.

Start by designing your graphics for the chalkboard. I made mine using Photoshop, but you can use Word, PicMonkey, or any other software that allows you to add text and graphics. Once your design is ready, print it out to scale on plain paper.
Flip the paper over and rub the graphite stick on the back of the design. Make sure to cover the back of the paper really well in graphite so there is enough to transfer over to your chalkboard. NOTE: You can cover the back with chalk instead (using a piece of chalk, not a chalk marker); it will still help transfer your design to the chalkboard, but it rubs off easier and makes more of a mess and may transfer to your chalkboard where you rest your hand etc., so I prefer to use graphite.
Once the back is covered in graphite, position the paper on your chalkboard with the graphite side facing down, and tape it to hold it in place. Take a pencil and carefully trace over the letters and designs on the front of the paper. Be sure to press firmly and go over every line. For thick letters, make sure to trace the outer edges of the text rather than just a single line down the middle, so that you don't lose the shape of the letter in the transfer process. You can peel back the paper after doing one word to double check; if you put enough graphite on the back of the paper you should see a very faint graphite line on your chalkboard where you traced the letters.
After you finish tracing all of your letters and graphics, remove the paper from the chalkboard and you should be left with a faint graphite outline of your letters!
Carefully go over the graphite outline with your chalk marker or piece of chalk, and you have a gorgeous hand-lettered chalkboard!
Want to share this tutorial with your friends? Just click any of the share buttons on the left to share with Facebook, Pinterest, Twitter, etc.!
If you liked this project, check out these other simple craft tutorials!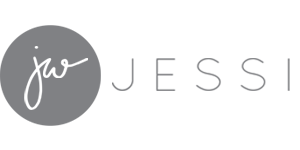 I believe that anyone can do crafts and DIY projects, regardless of skill or experience. I love sharing simple craft ideas, step by step DIY project tutorials, cleaning hacks, and other tips and tricks all with one goal in mind: giving you the tools you need to "do it yourself", complete fun projects, and make awesome things!