This post was last updated on
Fall is officially here! Who else is excited for chilly weather, sweaters, boots, and warm delicious drinks?! So I figured it was time to switch out the welcome wreath I made last spring for a brand new monogram wreath that was a little more "fall". And it turned out great; it makes me so happy every time I walk in the back door!
Isn't that thing pretty! I just love fall colors and I really love the contrast of the light purple on the monogram with the red, orange, and yellow in the berries!
DIY Fall Monogram Wreath
This wreath was really simple to make, here's what you need:
grapevine wreath form
a few garlands of faux berries
wire cutters
floral wire
wooden monogram
paintbrush
Mod Podge
ribbon
hot glue
Start by creating the base of your wreath. Grab the wreath form, the berry garlands, the floral wire, and the wire cutters.
Determine where you want to attach the berry garlands to your wreath form. I had three so I attached one on the inside of the wreath form, one on the outside, and one right on top in the middle.
Unwind and untangle your garland and attach it to the wreath form using floral wire. Just clip about two inches of wire, wrap it around the garland and a piece of grapevine, twist the ends together to secure, and tuck the ends into the wreath form to hide them. (I used green floral wire because I didn't have any brown wire on hand, but you can't even see the floral wire in the finished wreath, so don't worry if the color doesn't match!)
Continue wrapping a garland around the wreath form, attaching every six inches or so with a piece of floral wire. The berries in my garland were a little bit tangled with each other, so I separated them out as I went and then flattened them back down later. But if you like the spiky separated look, just leave them standing up in your finished wreath!
Continue adding garlands until your wreath is full. I wanted a bit of the grapevine to show through, so I only added three garlands, but you can cover the wreath completely in berries if you like the fuller look!
You can be done at this point, but I felt it needed a bit more, so I added a monogram and a giant bow! I found a plain white monogram at Michaels, cut out a square of scrapbook paper, brushed some outdoor Mod Podge onto the front of the monogram, and pressed the scrapbook paper down onto it.
After a few minutes I turned the monogram upside down so that the paper was against my craft desk and I carefully cut along the edges of the monogram with an Xacto knife to remove the extra paper.
I tied a big bow with some orange plaid ribbon, hot glued the monogram onto the ribbon, and then hot glued the ribbon onto the wreath.
I hung the wreath on our back door using a bronze wreath hanger, and I just love how it looks out there now!
Have you started decorating for fall yet? The inside of our apartment is not super festive yet, but now that I have this wreath and the stenciled fall welcome mat, our back entryway at least is ready for the new season!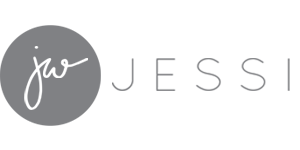 I link up at
these awesome parties
!
I believe that anyone can do crafts and DIY projects, regardless of skill or experience. I love sharing simple craft ideas, step by step DIY project tutorials, cleaning hacks, and other tips and tricks all with one goal in mind: giving you the tools you need to "do it yourself", complete fun projects, and make awesome things!