This post was last updated on
THE FULL TUTORIAL FOR MAKING THESE ADORABLE BABY HEADBANDS IS BELOW, BUT IF YOU DON'T WANT TO MAKE THEM YOURSELF, I'LL MAKE THEM FOR YOU! CHECK OUT THESE BABY FLOWER HEADBANDS IN MY ETSY SHOP!
I love making things for babies to wear; they are just so small and cute, and babies look ADORABLE in them! And these DIY no sew baby flower headbands are no exception. Today I'm going to show you how to make these cute baby headbands for yourself in just a few minutes!
The best part about these cute baby headbands is that they're so easy to make; there's nothing to stop you from making one in every color imaginable! I mean, seriously, cut the elastic to size, add a few dollops of hot glue, and you're done!
DIY No Sew Baby Flower Headbands
3 minutes (time spent doing stuff)
30 seconds (time spent waiting around)
3 and a half minutes (total project time)
Tools
Materials
Instructions
The first thing you need to do is determine the size of your headband. I used 5/8" fold over elastic because it is very soft and stretchy, which is perfect for baby headbands. You can also use skinny elastic or something fun like a lace elastic or glittery elastic. Whatever elastic you use, you want it to stretch just enough to keep the headband on her head and not so much that it's too tight and leaves a dent.
I've made a size chart for you so you can determine how much elastic you need. Keep in mind, the lengths listed in this size chart are the final lengths of the headband using fold over elastic, skinny elastic, or any other standard elastic. Before you make your cut, add about 1/2" extra so that you can overlap your elastic and glue it together.  And if you're using a "specialty" elastic like lace elastic or glitter elastic, add another 1/2" to 1" to account for the tighter elasticity.
Cut your elastic to size using the chart above, remembering to add about 1/2" for overlap. I also cut an additional 1.5" piece of elastic for covering up the overlap.
Bring the two ends of the long elastic together, overlapping about 1/2", and add a small dot of hot glue between the two ends to hold them together.
To cover the seam where you glued your headband together, wrap the shorter piece of elastic around the overlap/seam and add a small dollop of hot glue under both ends to hold it down onto the larger piece of elastic. Make sure the overlap/seam of the shorter piece of elastic is on the shiny side of the larger elastic so that it is hidden by the flower later!
Add a small dollop of hot glue on top of the overlap/seam on the shorter piece of elastic, then stick the back of the fabric flower onto the dot of glue.
See how all of the seams are hidden by using that small piece of elastic? It's such a nice, clean way to finish the headband so there are no weird-looking bits when you're done. And also, the hot glue is hidden inside the elastic, so only the soft elastic touches your baby's head and not the hardened glue.
Put the headband on a cute baby, stand back, and enjoy! Or wrap it up as a gift for a baby shower!
Want to share this tutorial with your friends? Just click any of the share buttons on the left to share with Facebook, Pinterest, Twitter, etc.!
Speaking of baby showers, some of my blogging friends and I have all teamed up to throw a "Virtual Baby Shower" for one of our best blogging buddies, Lauren Lanker of The Thinking Closet! She and her husband, Mark, are expecting their first baby – a precious little girl – this June. Every blogger has contributed something different to our shower, and we have all the elements covered. So grab a cupcake and stay for a while!
1. Chai Latte Cupcakes with Cupcake Toppers by Two Purple Couches

2. Guacamole Shrimp Bites from Katie's Cucina
1. Customizable Baby Shower Invites by Tried & True

2. Baby Nursery Art by One Artsy Mama

3. "It's a Girl!" Printable Bunting Banner by Just a Girl and Her Blog

4. Baby Shower Decoration Ideas by Southern Couture
1. Onesie Making Station by unOriginal Mom

2. Free Printable Baby Shower Game – Alphabet Cards by Cutesy Crafts

3. Printable Baby Word Search by Simply Kelly Designs

4. Name That Rockin' Lullaby Baby Shower Game + Free Printable by Where the Smiles Have Been
1. Emergency Diaper Kit with Free Printable by From Wine to Whine

2. DIY No-Sew Baby Headband by Practically Functional

3. Personalized Onesie Tutorial by Ginger Snap Crafts

4. Personalized Onesie Dress by Create & Babble

5. Crochet Scalloped Earflap Hat and Flower by Repeat Crafter Me

6. Starfish Nursery "Love You" in Etched Glass Frame by Whatcha Workin' On?

7. Knit Bow Baby Headband by It Happens in a Blink

8. Super Sweet Month by Month Baby Stickers by Tori Grant Designs

9. Fearfully and Wonderfully Made Onesie by Sew Woodsy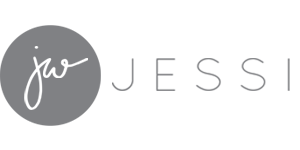 The following two tabs change content below.
Hi, I'm Jessi! Welcome to Practically Functional, a DIY and crafts blog for everyone! I believe that anyone can do crafts and DIY projects, regardless of skill or experience. Whether you're looking for simple craft ideas, step by step DIY project tutorials, cleaning hacks, or just practical organization solutions, you'll find them here! Make sure to
sign up for the email newsletter
to get craft projects, Cricut tutorials, and cleaning tips in your inbox every week (for free!)
Latest posts by Jessi Wohlwend (see all)