Etching glass is one of my favorite crafts; it's easy to do and everything you make turns out super classy and professional looking! I already shared a tutorial on how to etch glass, but this weekend I tried it on a new medium and it turned out great. So today I'm sharing how to make etched glass tile coasters!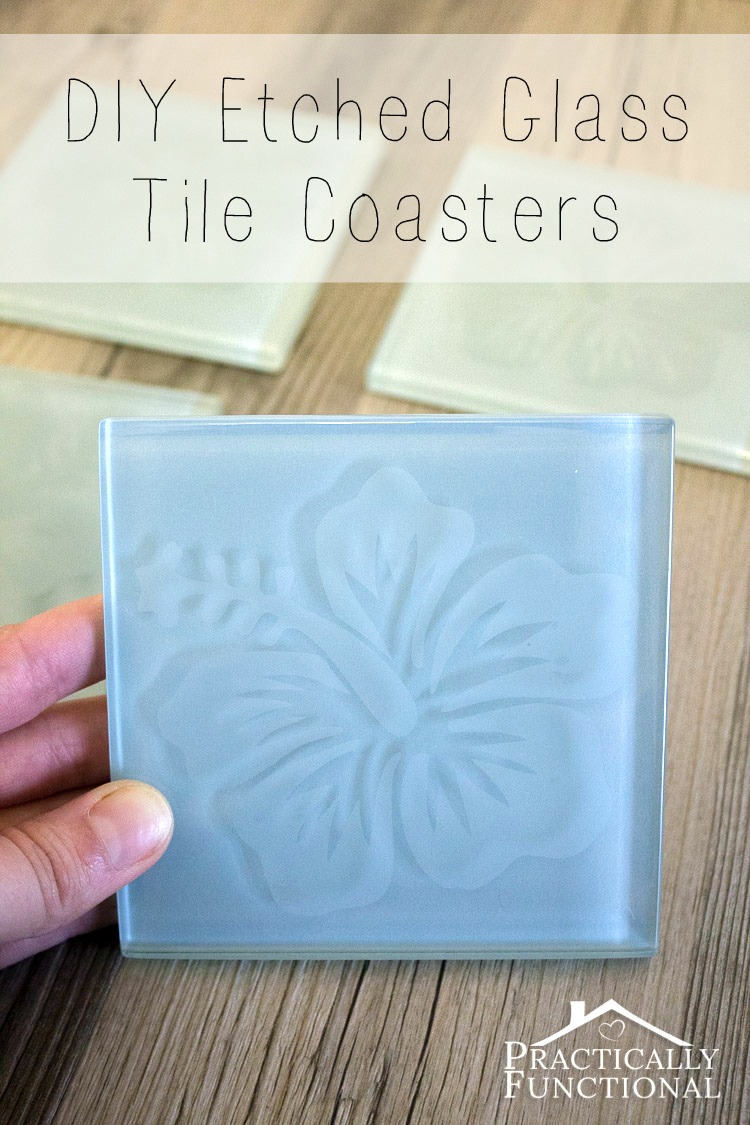 These little coasters make great handmade gifts! I added cute flowers to these coasters, but you can add a monogram, or a family name, or anything else you can think of! Plus they only take about fifteen minutes to make and always end up looking professional.
How To Make Etched Glass Tile Coasters
Here's what you need:

Start by cutting out a design from your stencil vinyl or contact paper. I chose a few flowers, but you can do a monogram, a name, or anything else! Weed away all the extra bits of vinyl to create a stencil. It's a little hard to see in the photo below, but I weeded away all the parts of the flower, leaving a border of stencil vinyl.
If your stencil has lots of little pieces, or disconnected pieces, you can use transfer paper to transfer your stencil to the coaster. Peel the backing off the transfer paper and stick it to the stencil, then peel the stencil and transfer paper up off the backing. Place the stencil on your coaster, then gently peel away the transfer paper, leaving the stencil stuck to the tile. Press the stencil down super well along all the edges so you get nice crisp lines!
Then cover the stencil with etching cream. Make sure not to paint any etching cream off the edges of your stencil, or you will have extra etch marks!
Add a lot of etching cream to the areas you want etched; make sure it is piled up pretty thick!
The directions on the bottle say to let the cream sit for about five minutes, but I find the etch is more clear if you leave it on for about ten minutes instead. After about ten minutes, you can scrape the extra etching cream back into the bottle (carefully!) and then rinse off any etching cream residue with water.
Once the etching cream is rinsed off, gently remove the stencil vinyl from the tiles, and dry them off. And you have an etched glass tile!
To turn your glass tiles into coasters, just add some felt to the back to keep the tiles from scratching your table. Cut a piece of felt into a square about a quarter inch smaller than the tile. Squeeze some tacky glue onto the felt, then press it onto the tile. Set the tile aside for a little while to dry, and after about an hour, you have etched glass tile coasters!
Wrap them up in twine and give them as a gift, or use them for yourself!
Want to share this tutorial with your friends? Just click any of the share buttons on the left to share with Facebook, Pinterest, Twitter, etc.!
If you want to see more Silhouette tutorials, check out my Silhouette project gallery to see every project I've ever done with my Silhouette, or check out some of my favorites below!
Want to Check Out More Silhouette Projects?
My Silhouette Challenge buddies and I are all sharing projects on our blogs today, so peruse the projects below for a wealth of Silhouette inspiration!
1. Weekend Craft // 2. Where The Smiles Have Been // 3. Confessions of an Overworked Mom // 4. Simply Kelly Designs // 5. Adventures in All Things Food // 6. Sisters, What! // 7. Create & Babble // 8. Creative Ramblings // 9. Practically Functional // 10. Briick by Briick // 11. My Paper Craze // 12. DIYJustCuz // 13. Made in a Day // 14. The Thinking Closet // 15. Architecture of a Mom // 16. Get Silvered