I'm definitely a Type A personality, which means I spend a lot of time focusing on the little things. It's hard sometimes to make my controlling brain take a step back and remember that life is about the bigger picture. So I used my Silhouette Cameo to create some wall art that says "Focus on the good" to help me remember every day!
It's hanging at the top of the stairs, so I see it every time I walk upstairs; perfect reminder! And it's such an easy craft to do! Basically, attach patterned paper to a canvas, add some vinyl letters, then paint over the whole thing. Once the paint is dry you can peel up the vinyl letters to reveal the cute patterned letters below!
Focus On The Good Wall Art
Here's what you need to create your own:  (affiliate links below to the products I use and recommend)
I set up my canvas so that the blue and white polka dot paper shows through the white craft paint background in order to form the letters. But if you'd rather have the background be patterned and the letters be a solid color, you can do it the opposite way. I'll give directions for both options in the tutorial below!

Start by covering your canvas in patterned paper using Mod Podge. Apply a thin coat on the back of the paper, then press it onto the canvas. Then apply a second coat of Mod Podge on top of the paper to help seal it down.
If you want the entire background to be patterned, make sure the paper goes all the way to the edges of the canvas. If just the letters are going to be patterned, it doesn't matter as much (you can see there's a little gap around the edges in the photo below).
While you wait for the Mod Podge to dry, design your phrase and cut it out of contact paper or adhesive vinyl using your Silhouette cutting machine. Unlike with heat transfer vinyl, you can cut the words out just like normal; you don't need to mirror the image before cutting it.
The next step is to carefully weed away the excess contact paper or vinyl. If you want the letters to be patterned (like my project), weed away all the vinyl or contact paper surrounding the letters, but leave the letters themselves. If you want the letters to be painted a solid color on top of a patterned background, then weed away the actual letters, creating a "stencil" out of the vinyl or contact paper surrounding the letters. Pro tip: This includes the centers of letters like "o", "a", "p", "b", etc. Make sure you don't lose those center pieces!
Once the Mod Podge on the canvas is dry, attach your adhesive letters (or your adhesive "stencil"). To help keep the letters and pieces aligned, it can be useful to use a piece of washi tape or masking tape, or you can use transfer paper if you wish.
Paint another layer of Mod Podge on top of all the letters. This will help "seal" the edges of the letters so that no paint seeps under them when you add the craft paint.
Once the Mod Podge is dry, paint over the entire canvas, paper and letters included, with your craft paint. Don't worry if your first coat is totally see through; it's totally normal, especially if you are using a light colored craft paint!
It just means you'll have to do more coats of paint to fully cover the patterned paper below. I ended up doing four coats until the canvas finally looked like this.
No more polka dots showing through!
Once the last coat of paint is dry, it's time to carefully peel up the letters (or stencil). Use an X-acto knife or razor blade to gently peel up one corner of the vinyl or contact paper. Then carefully peel away the entire vinyl/contact paper letter.
Because of the layer of Mod Podge you brushed on top of the patterned paper before you stuck the letters on, the contact paper or vinyl should come away easily and shouldn't tear the paper as it comes up.
And remember that second layer of Mod Podge you added on top of the contact paper or vinyl before you started painting? That's what makes these edges so nice and clean! It seems like a lot of Mod Podge, but all those layers are worth it!
Once you have peeled up all your letters, you're done! Hang your art on a wall where you'll see it every day, and enjoy!
Want to share this tutorial with your friends? Just click any of the share buttons on the left to share with Facebook, Pinterest, Twitter, etc.!
If you liked this project, check out these other simple decor crafts!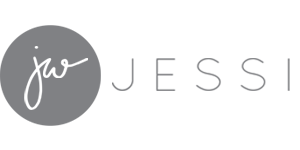 The following two tabs change content below.
Hi, I'm Jessi! Welcome to Practically Functional, a creative lifestyle blog for busy moms! I believe that even if your house is a mess and you're wearing yesterday's sweatpants, you can still be a kickass mama, a creative problem solver, and a maker of awesome things! Whether you're looking for simple cleaning tips and tricks, fun DIY and craft projects, quick and easy home decor ideas, practical organization solutions, tried and true parenting advice, or just real-life stories about parenting struggles, you'll find them here! Make sure you
sign up to get new posts delivered to your inbox
so you don't miss a single thing!
Latest posts by Jessi Wohlwend (see all)