How do you mark your spot in a book when you put it down for a while? If you don't want to dog-ear the page, wrap the jacket around the pages, or just prop it open to the page you left off at, try these super easy corner bookmarks instead! It takes less than a minute to make corner bookmarks out of a square of paper, and they're just so useful!
Today I'm going to show you how to make corner bookmarks two ways; the first only requires a square of paper and some special folding. The second uses a glue stick and scissors, but you end up with a thinner bookmark because there are fewer layers of paper. Both are totally easy to do, so it's up to you which method you like best!
If you want something a little fancier than a plain corner bookmark, just add some decorations once you've finished folding! You can add eyes and teeth to make a silly monster or add eyes, ears, and paws to make a cute bear. The possibilities are endless!
How To Make Corner Bookmarks (Two Ways)
1 minute (time spent doing stuff)
0 minutes (time spent waiting around)
1 minute (total project time)
Tools
Materials
paper (color and thickness are up to you; heavier paper will be harder to fold, but you can use whatever paper you want!)
Instructions
If you're a visual learner, I made a video showing you exactly how I made these bookmarks, step by step. Follow along below!
If you'd prefer written instructions, I've got them below.
Method #1 – Folding
Step 1: Start with a 6" square of paper. Flip it over so the back side faces up, and rotate it 45 degrees like a diamond. Fold the paper in half by taking the bottom point and bringing it up to meet the top point.
Step 2: Take the right point and bring it up to meet the top point, and fold.
Step 3: Do the same with the other side so that you end up with a small square.
Step 4: Unfold the last two folds so that the original paper is just folded in half again. Then take the top layer of paper and fold the top point down so that it touches the original fold line at the bottom.
Step 5: Take the right point and fold it up towards the top point again, but this time instead of folding it and leaving it there, tuck the point down behind the flap you just created with the previous fold.
Step 6: Do the same with the other side, tucking the point into the little "pocket" you've created.
And you're done!
Method #2 – Cutting and gluing
The first three steps in this method are exactly the same as the method above. But this time, step 4 is slightly different.
Steps 1-3: See method above.
Step 4: Unfold the entire paper and lay it out flat. Cut the bottom square out of the paper using scissors.
Step 5: Fold the right point in to touch the middle.
Step 6: Repeat for the other side.
Step 7: Unfold the two folds you just made and cut along those newest fold lines to remove the right and left points.
Step 8: Rotate the paper so that the square is at the bottom and the two triangles are at the top. Fold the right triangle down along the original fold line.
Step 9: Apply glue to the top face of the right triangle, then fold the left triangle down on top of it, pressing all over to make sure they're glued together.
And you're done!
Wasn't that easy?!
Which method do you like best?
Shop this project:
Want to share this tutorial with your friends? Just click any of the share buttons on the left to share with Facebook, Pinterest, Twitter, etc.!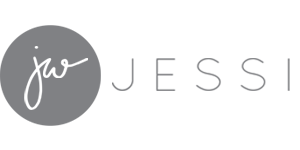 The following two tabs change content below.
Hi, I'm Jessi! Welcome to Practically Functional, a creative lifestyle blog for busy moms! I believe that even if your house is a mess and you're wearing yesterday's sweatpants, you can still be a kickass mama, a creative problem solver, and a maker of awesome things! Whether you're looking for simple cleaning tips and tricks, fun DIY and craft projects, quick and easy home decor ideas, practical organization solutions, tried and true parenting advice, or just real-life stories about parenting struggles, you'll find them here! Make sure you
sign up to get new posts delivered to your inbox
so you don't miss a single thing!
Latest posts by Jessi Wohlwend (see all)